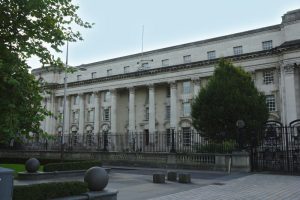 A Newry woman has launched a High Court challenge to her Widowed Parent's Allowance being allegedly stopped because she began living with another man.
Marina Lennon's lawyers claim the benefit she received following the death of her first husband was unlawfully halted – creating a deterrent to forming a new relationship.
Her bid to judicially review the Department for Communities over the decision has been listed for a full hearing early next year.
The challenge raises different issues to the landmark case taken by unmarried Co Antrim mother-of-four Siobhan McLaughlin.
Ciaran O'Hare, of McIvor Farrell law firm, claimed that decision breached her right to private and family life under European law.
"Crucially, in these types of scenarios the children are worst affected by the decision to stop payments of Widowed Parent's Allowance," Mr O'Hare said.
"My client states that it is hard enough for a child to get over the grief of losing a loved one, and no further hardship should then be caused to them by a financial entitlement being removed."