Belfast Solicitor Paul Farrell has been representing Sean Napier in the High Court, in action against DUP ministers who have boycotted the North South Ministerial Council.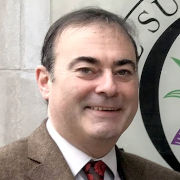 Mr Napier brought the case against First Minister Paul Givan, Economy Minister Gordon Lyons, Education Minister Michelle McIlveen, Agriculture Minister Edwin Poots and Junior Minister Gary Middleton.
Justice Scoffield ruled the refusal as an unlawful breach of the pledge of office.
Speaking after the verdict Paul Farrell described how "the court could not have been clearer with regard to the unlawfulness of the DUP's ongoing refusal to engage with the NSMC."
Read more here